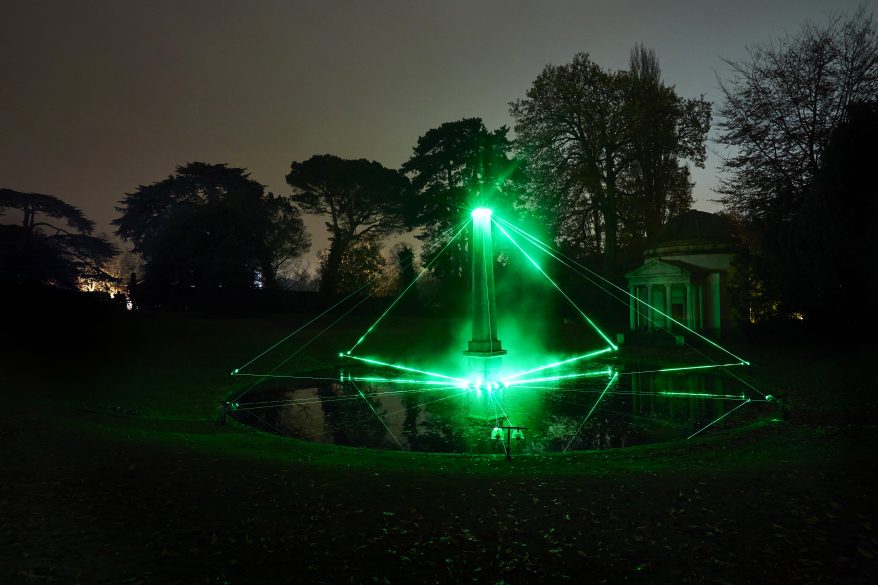 AFTER DARK | CHISWICK HOUSE
(Chiswick House & Gardens, London 2018)
Renegade developed a collection of temporary site-specific lighting installations articulating over different areas of Chiswick House & Gardens based on the 'After Dark' concept. Challenging the traditional 'winter light' visual approach, this outdoor exhibition was conceived as an escape from the city, an immersive visual journey designed to enhance the almost mystical experience of wandering through nature at night. Visitors could discover secret corners, light sculptures, temples and holograms whilst walking amongst secular trees and water streams.
A bespoke design was created for each area of the journey, responding to unique natural and sculptural characteristics that appeared within the landscape.The diverse textures and reflective properties of the natural elements – such as wood and water – played a central role in the creative process, becoming an integral part of each individual installation, alongside the classic geometry of the architectural elements.
The exhibition opened with a time-coded lighting sequence on Chiswick House's main building, accompanied by an original music score by Kasabian's Serge Pizzorno. Bespoke neon was chosen over LED to create sculptures made of salvaged wood from local fallen trees, which were commissioned by the client. Lasers were strategically positioned to pierce through smoke and branches and to create reflections on the water's surface.
The gardens themselves were ever changing from the moment the project was conceived and the initial planning in Autumn; by the time the installation was completed in winter, the season altered the natural colours, density of foliage, water levels and humidity. Occasionally, Renegade had to re-imagine and adapt some creative concepts to follow these natural changes and respond to unexpected scenarios.
Lighting & Installation Design: Nick Gray (Renegade Design)
Photography: James Wicks