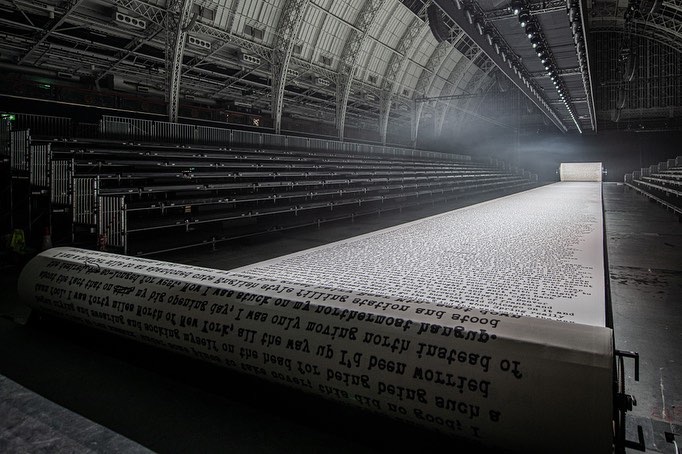 DIOR | MEN AW22
(Olympia, London)
With a recreation of Jack Kerouac's novel 'On The Road' serving as the runway of the Dior Men 2022 show by Kim Jones, a giant manuscript written on a single 80 meters roll of paper become the scenography for the presentation. The lighting for the catwalk area was designed to give a sophisticated, classic feel with a twist. The lighting elements were concealed within a large canopy shade which, as guests entered, perched a few meters above the closed manuscript.
As the show commenced, the canopy was lifted revealing the moving scroll whilst the lighting faded as the models walked the runway. For the finale, the drapes behind the manuscript opened to reveal a crimson red club and stage, designed for the show's afterparty and live performance by Grace Jones.
Besides the runway show, Kim Jones' admiration for the Beat Generation movement took its form in an ephemeral exhibition 'Nowhere To Go But Everywhere', where most of the first editions and other rare and related works he has collected over the years were curated by Sammy Jay of Peter Harrington Rare Books.
Production & Set Design: Villa Eugénie
Lighting Design: Renegade Design
Music: Simon Parris
Styling: Melanie Ward
Live performance: Grace Jones
Dj set: Princess Julia and James Massiah