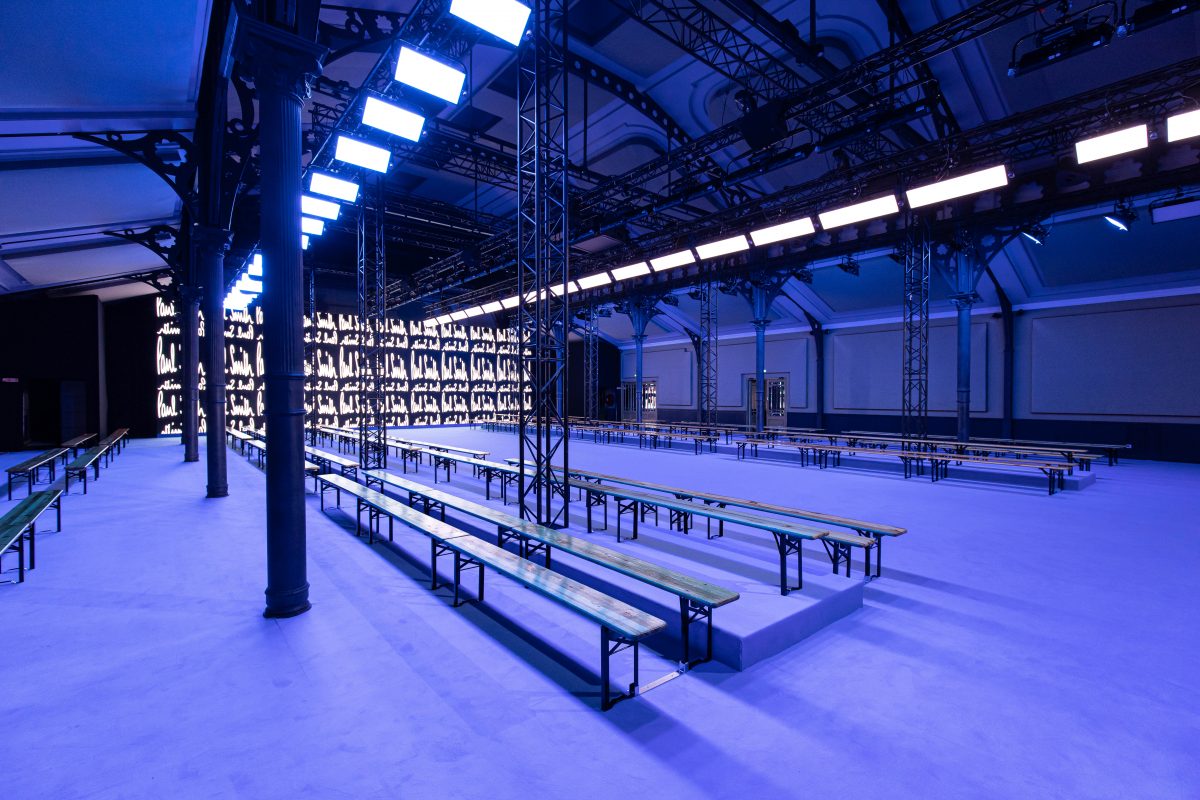 PAUL SMITH | 50TH ANNIVERSARY SHOW | AW20
(Élysée Montmartre, Paris 2020)
The 50th anniversary show of the iconic British fashion designer took place in the historic music venue Élysée Montmartre. Renegade was asked to design the lighting for different areas beyond the main catwalk space, including the dressing area within the theatre, which was then converted into to an elegant dining room designated to the guests' after party.
The lighting scheme for the catwalk had to be bold and clean to enhance the collection, whilst being versatile enough to complement the striking visual content opening the show. The bespoke video content was an homage to Paul Smith's 50-year career and relayed highlights from his previous celebrated collections. Renegade presented a cool colour temperature palette for the catwalk next to rich blues and magentas for the pre-show, echoing the vibrancy and the established identity of the visuals.
In the previous three seasons, Renegade had used Arri Sky Panels as the overhead lighting system, which have now become a key part of the design identity of Paul Smith's shows. This choice provided a signature, stylistic continuity albeit the lighting scheme being re-designed each season to seamlessly integrate with the new show ethos and layout. Lighting for the photographers was from Ayrton Khamsin's, an LED profile fixture with four blade shutters, beautifully rich colours and perfect CTO/B for balancing with the overhead lighting.
In the backstage area, a sculptural installation lining the balcony of Arri Sky Panels was installed for precise colour temperature, matching the show lighting for both the make-up artists and dressers to work in.
Production Company: 6UP
Lighting Design: Renegade Design
Music: Andrew Hale
Photography: Paul Blind